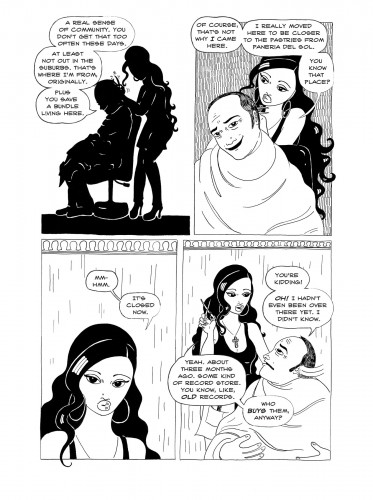 PANEL 1
A silhouette of Paul getting his hair cut.
PAUL
A real sense of community. You don't get that too often these days.
PAUL (CONT'D)
At least not out in the suburbs. That's where I'm from, originally.
PAUL (CONT'D)
And you save a bundle living out here.
PANEL 2
Paul and Angel.
PAUL
Of course, that's not why I came out here.
PAUL (CONT'D)
To be honest, I think I really came out here for the pastries from Paneria del Sol.
PAUL (CONT'D)
You know that place, right by… what is it? Patricio's Bodega!
PANEL 3
Angel.
ANGEL
Mm-hmm.
ANGEL (CONT'D)
It's closed now.
PANEL 4
Paul has turned around in his chair to look at Angel.
PAUL
You're kidding?
PAUL (CONT'D)
Oh! I hadn't even been over there yet. I didn't know.
ANGEL
Yeah. About three months ago. Big video rental store moved in. A real shame. I grew up with those cookies.