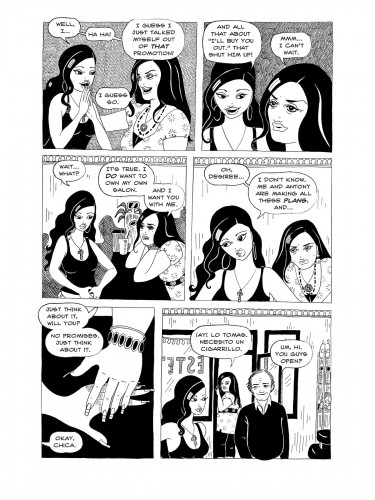 PANEL 1
Desiree goes over to Angel. They are both still laughing.
ANGEL
Well, I…
ANGEL (CONT'D)
HA HA
ANGEL (CONT'D)
I guess I just talked myself out of that promotion.
DESIREE
I guess so.
PANEL 2
Closer. Angel and Desiree both still laugh.
ANGEL
And all that about "I'll buy you out." That was great. That will shut him up.
DESIREE
I can't wait!
PANEL 3
They go to the counter, each standing on different side. Both are more serious.
ANGEL
What?
DESIREE
It's true. I do want my own salon. And I want you with me.
PANEL 4
Angel looks away.
ANGEL
Oh, Desiree…
ANGEL (CONT'D)
I don't know. Antony and I are making all these plans….
PANEL 5
Close up of their hands on the counter. Desiree puts her hands over Angel's.
DESIREE
(off above)
Just think about it, will you?
DESIREE (CONT'D)
No promises now. Just think about it.
ANGEL
Okay.
PANEL 6
Wider shot. PAUL, the book store owner, enters. He is a good-spirited white man in his early 50s. He's balding, but what little hair he has hangs ragged over his ears. Desiree walks away from the counter, past Paul, on her way outside.
DESIREE
¡Ai! Lo tomas. Necesito un cigarrillo.