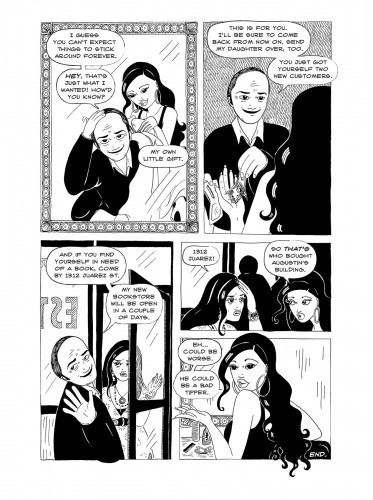 PANEL 1
Pull back to see the two of them once again. Angel removes the cape. Paul looks in the mirror.
PAUL
I guess you can't expect things to stay the same forever.
PAUL (CONT'D)
Hey, that looks great. Exactly what I wanted. How'd you know that?
ANGEL
It's my own little gift.
PANEL 2
Paul stands up and reaches for his wallet in the back pocket. Angel gives a shy smile.
PAUL
Let me tell you. You are a gifted practitioner of your craft.
PANEL 3
Paul places several bills in her open palm.
PAUL
This is for you, tip included. I'll be sure to come back from now on. Send my daughter over, too.
PAUL (CONT'D)
You just got yourself two new customers.
PANEL 4
Paul is about to leave. He turns back to her. Desiree is reentering.
PAUL
And if you find yourself in need of a book, come by 1312 Juarez St.
PAUL (CONT'D)
My new bookstore'll be open in just a couple of days.
PANEL 5
Similar. Paul exits. Desiree and Angel stare at each other in shock.
DESIREE
1312 Juarez!
ANGEL
So that's who bought Augustin's building.
PANEL 6
Angel turns back towards the chair. She pooches her lips out and gives a nonchalant shrug.
ANGEL
Eh…
ANGEL (CONT'D)
Could be worse. He could be a bad tipper.
END.