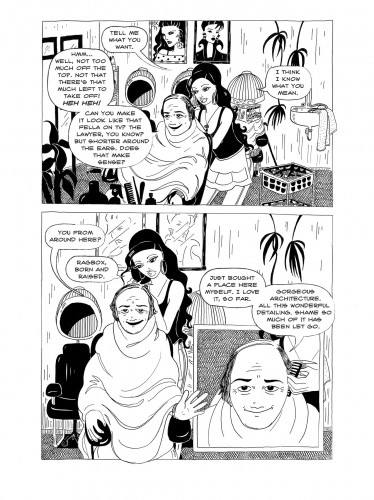 PANEL 1
Paul is sitting down. Angel is tying the cape behind his neck.
ANGEL
Tell me what you want.
PAUL
Hmm… well, I guess a bit off the sides, but not too much. Not that there's that much to take off! Ha ha.
PAUL (CONT'D)
Can you make it look like that fella on TV? The lawyer, you know? But shorter around the ears. Does that make any sense?
ANGEL
I know exactly what you mean.
PANEL 2
The two of them. Angel has started to cut.
PAUL
You from around here?
ANGEL
Ragbox. Born and raised.
PANEL 3
Paul.
PAUL
Just bought a place here myself. I love it, so far.
PAUL (CONT'D)
Gorgeous architecture. All this wonderful detailing. Shame so much of it has been let go.