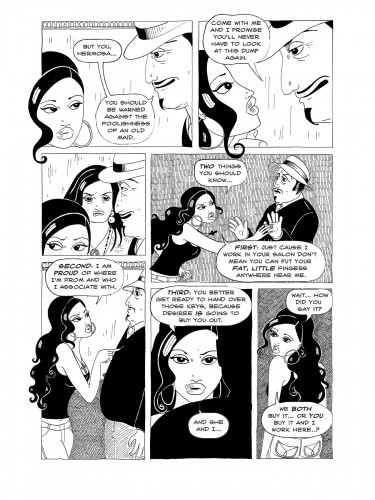 PANEL 1
Augustin moves in close to Angel. Desiree stands beside her, furious.
AUGUSTIN
But you, hermosa…
AUGUSTIN (CONT'D)
You should be warned against the foolishness of an old maid.
PANEL 2
Augustin and Angel face each other in profile. He raises a hand to her chin. Angel stares at him coldly.
AUGUSTIN
You still have a few years to cash in on your assets.
AUGUSTIN (CONT'D)
If you came with me, I promise… you'd never have to look at this dump again.
PANEL 3
Same. Augustin turns his head to look at Desiree, now visible between their profiles. Desiree looks up and away, trying very hard not to feel the sting of the insult.
PANEL 4
Angel pushes Augustin's hand away from her.
ANGEL
Two things you should know:
ANGEL (CONT'D)
First: Just cause I work in a hair salon, doesn't mean you or anybody else can put their fat, little fingers anywhere near me.
PANEL 5
Angel advances on Augustin. He takes a step backward.
ANGEL
Second: I am proud of where I'm from and who I associate with.
PANEL 6
Angel continues to advance. This time, angle over Augustin's shoulder.
ANGEL
Third: You better get ready to hand over those keys, because Desiree is going to buy you out.
ANGEL (CONT'D)
And she and I…
PANEL 7
Same. Angel does a half-turn towards Desiree, unseen behind her.
ANGEL
Wait… How did you say it…? We both buy it… or you buy it and I work here…?