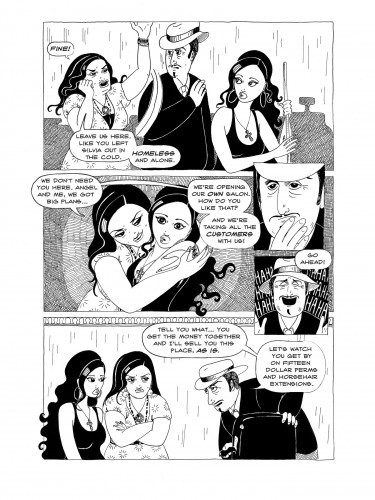 PANEL 1
Desiree, lashing out against being ignored, throws her arms in the air and walks towards Angel.
DESIREE
Fine. Leave us here. Like you left Silvia out in the cold. Homeless and alone.
PANEL 2
Desiree throws her arm around Angel proudly. Angel's reaction should register that she's never heard the following idea before.
DESIREE
We don't need you here. Angel and I got big plans…
DESIREE (CONT'D)
We're opening our own salon. How do you like that? And we're taking all the customers with us.
PANEL 3
Close up of Augustin. He looks quite serious as he considers this.
PANEL 4
He bursts out laughing.
AUGUSTIN
Your own place? Fine! Go ahead!
PANEL 5
Pull back. Augustin pulls at a piece of pleather tearing away from one of the barber's chairs. Desiree has let go of Angel and crosses her arms.
AUGUSTIN
Tell you what? You get the money together and I'll sell you this place as is.
AUGUSTIN (CONT'D)
Let's see you get by on $15 perms and horsehair extensions.