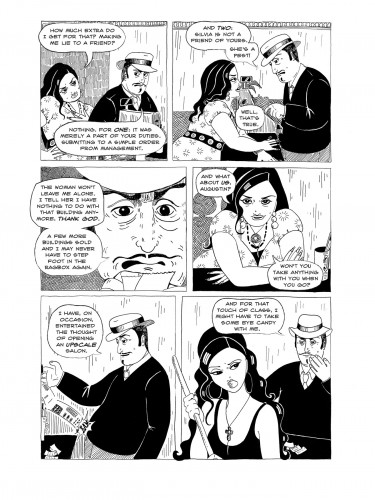 PANEL 1
Back inside the salon. Augustin is walking in, heading for the register. Desiree is quick on his heels.
DESIREE
How much extra do I get for that? Making me lie to a friend?
AUGUSTIN
Nothing. For one: it was merely a part of your regular duties. Submitting to a simple order from management.
PANEL 2
Augustin stands behind the counter and punches some numbers into the cash register. Desiree puts both arms on the counter and leans forward very slightly.
AUGUSTIN
And two: Silvia is not a friend of yours.
DESIREE
That's true.
AUGUSTIN
She's a pest!
PANEL 3
Augustin begins sorting through the receipts from the cash register.
AUGUSTIN
The woman won't leave me alone. I tell her I have nothing to do with that building anymore, thank god.
AUGUSTIN (CONT'D)
A few more buildings sold and I may never have to step foot in the Ragbox again.
PANEL 4
Augustin's POV. Medium close up of Desiree. She leans forward more, exposing some cleavage.
DESIREE
And what about us, Augustin? Won't you take anything with you when you go?
PANEL 5
Augustin slams the register drawer shut with his belly.
AUGUSTIN
I have, on occasion, entertained the thought of opening an upscale salon.
AUGUSTIN (CONT'D)
And for that touch of class, I might have to take some of the eye candy with me.
PANEL 6
He leers at Angel. Angel has taken a broom to sweep up some of the hair. She looks up at him with barely contained disgust.